I spent last weekend in Paris with my girlfriend celebrating our six year anniversary. We left early on Saturday morning and got home around 9:30 Monday night so we had a good few days to see the main sights. Jordan had never been and I only have very vague memories of being there as a young child so it was fun wondering around seeing the famous landmarks.
I ended up getting a bit annoyed at the Louvre. I don't particularly like crowds of tourists (hypocritical I know) and the Louvre seemed to encompass every tourist in Paris standing in front of me in a queue. We decided against actually going in due to the crowds. We then took a long stroll down the Champs-Élysées taking in the scenery and heading towards the Arc de Triomphe.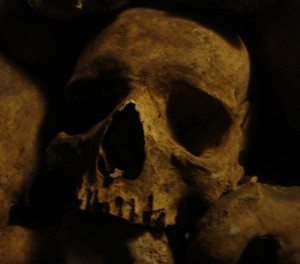 Sunday was by far the best day. We started with baguettes for breakfast before heading over to the Paris catacombs. The queue was pretty horrific but the experience was definitely worth it. You can't quite comprehend the number of dead people decorating the walls with their skulls and other bones. It's not quite as spooky as you might think – just very daunting when you think about the time and effort that's gone into the arrangement.
After the catacombs we headed over to the Eiffel Tower. I have a bit of a thing for tall buildings so we paid our 13€ and got the rickety lift to the top. The view is obviously impressive and the queues were actually much better than I expected. Jordan was impressed that they had a toilet on the top floor.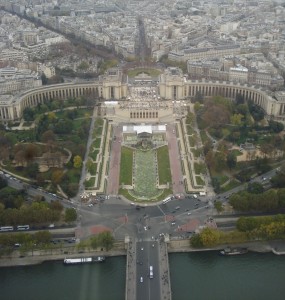 In the evening we ate at Le Porteger du Marais – a vegetarian restaurant located close to the rather striking Pompidou Centre. The meal was really tasty and was finishes nicely with a lovely chocolate fondant… mmmm.
The next day we wondered around Montmartre. We found the Moulin Rouge and ate at a brasserie that turned out to be a bit touristy and not actually very good.
Overall it was a pleasant getaway. I'm not sure I'd go back again in a hurray though. Prices for hotels, food and drink are extortionate which can get a bit annoying. We also couldn't work out why people find the city so romantic when everywhere smells of piss and you're constantly dodging dog crap on the paths!