Last Friday we picked up our second cat. We originally replied to the advert about him a couple of months ago, just after he had been born, so we've been waiting to get him for a while. The advantage of getting in touch with the owner so early is that we get pictures of him as a very young baby.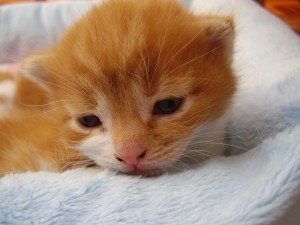 It didn't take him long to settle in once we got him home. He was running round like a mad man within a few minutes. It wasn't long until he was crashed out on the bed. We've named him Sailor after Nicolas Cage's character in the David Lynch film 'Wild at Heart'.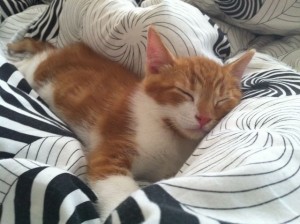 Over the last few days we have been slowly trying to introduce him to our other cat Fritz. Fritz is a little confused by the situation. He's given Sailor a good bat with his paw a couple of times but that's really to be expected. The vet reckons he's just showing dominance. Lets hope so. We have decided that if things don't work out within a few months we might have to look into alternatives. But I doubt that will happen.
Events like this just prove to me that Jordan and I should never have children. Jordan was trying to tell people that looking after him was just like looking after a new born baby. Jordan would be in for a shock if she had children…